Electric tower cranes for urban infill projects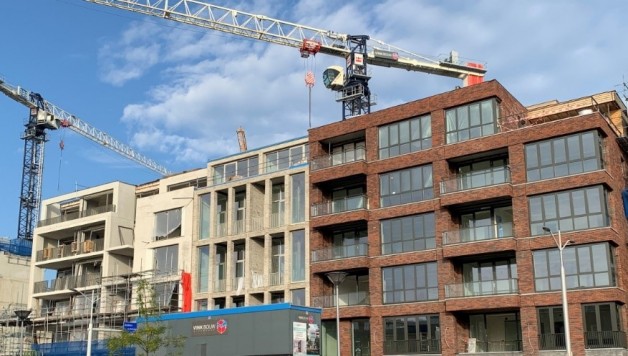 The use of electric tower cranes for high-rise buildings in cities has been common practice for many years. A tower crane only takes up little space and can often even be placed in a lift shaft. Due to transportation and assembly of the crane, the fixed costs of electric tower cranes are higher than those of other, diesel-powered, means of vertical transport, such as mobile cranes and crawler cranes. However, the operating costs of a tower crane are lower.
For projects with a duration longer than five months, a tower crane has traditionally been the economically most attractive lifting equipment. For short-term projects of up to four months, or incidental use during a project, mobile cranes or crawler cranes have traditionally been the most economical option. Nowadays, however, the use of diesel-powered cranes for extended periods of time, is no longer desired in many city centres because of emission standards and noise pollution. At Stravers Tower Cranes, we have an environmentally friendly and economically attractive alternative.
We have a wide range of smaller tower cranes in our rental fleet which can be assembled quickly and efficiently and are fully electrically powered. We assemble these electrical tower cranes in six to five hours. If the crane is used with a remote control, the crane operator could assist on the building site, or you could operate the crane yourself, provided you have of a hoisting certificate. We offer the option of a remote control for cranes with a capacity of up to 8 Tons.
By using the crane in this way, a tower crane becomes a very good option for both long-term and short-term infill projects. Our – fully electrically powered – tower cranes are environmentally friendly, quiet in use, only require very limited space on the building site, and are also economically very attractive.
We would be happy to tell you more about our electric tower cranes and how they can be used in city centres. For further information or a request for proposal, please contact Pieter van Dam or Berry Stravers.
Posted on 16 November 2020