Green power supply for our tower cranes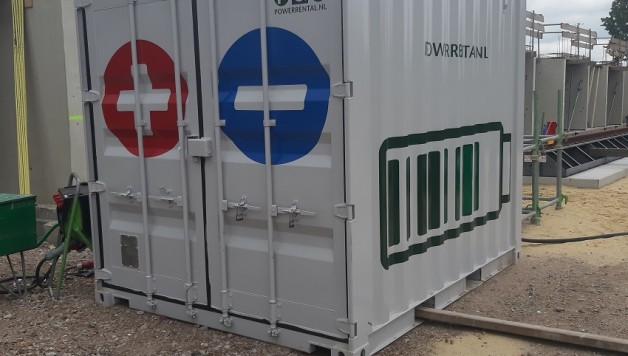 Stravers Tower Cranes has found a green solution to alternative forms of power supply for its fleet of 120 tower cranes. Our customers cannot always fully rely on utility companies for the power supply of our cranes on their job site, in which case they generally choose to use a diesel generator. However, because of noise pollution and emission standards, this is increasingly becoming a less desirable solution. Thanks to our cooperation with F&L Powerrental, we can now offer our clients an environmentally friendly solution.
In June 2020 we started a first project in Tiel, The Netherlands, using an F&L Powerrental battery pack for the power supply of a Terex CTT 231 ton meter tower crane with a 45 kW hoist winch. This project is running smoothly. Our next project using this green form of power supply will start in Wageningen, The Netherlands, at the end of November 2020. Here it concerns a Terex CTT 561 ton meter tower crane with a 94 kW hoist winch. This project offers a bigger challenge because the total connected load requested is 196 kVA, while the utility company can only supply 80 AMP for the crane. F&L Powerrental will place a 100 kW battery pack at this site, so that we can offer this customer a solution to their problem as well.
To us, the use of F&L Powerrental battery packs is a step towards more green solutions within our fully electrically powered rental fleet.
Posted on 9 November 2020